Agromart products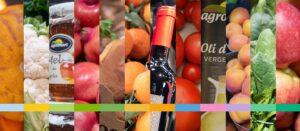 Agromart products, the best quality at the best price.
We are proud to present our own brand of products, which stand out for being of local origin, natural, sustainable and accessible to all.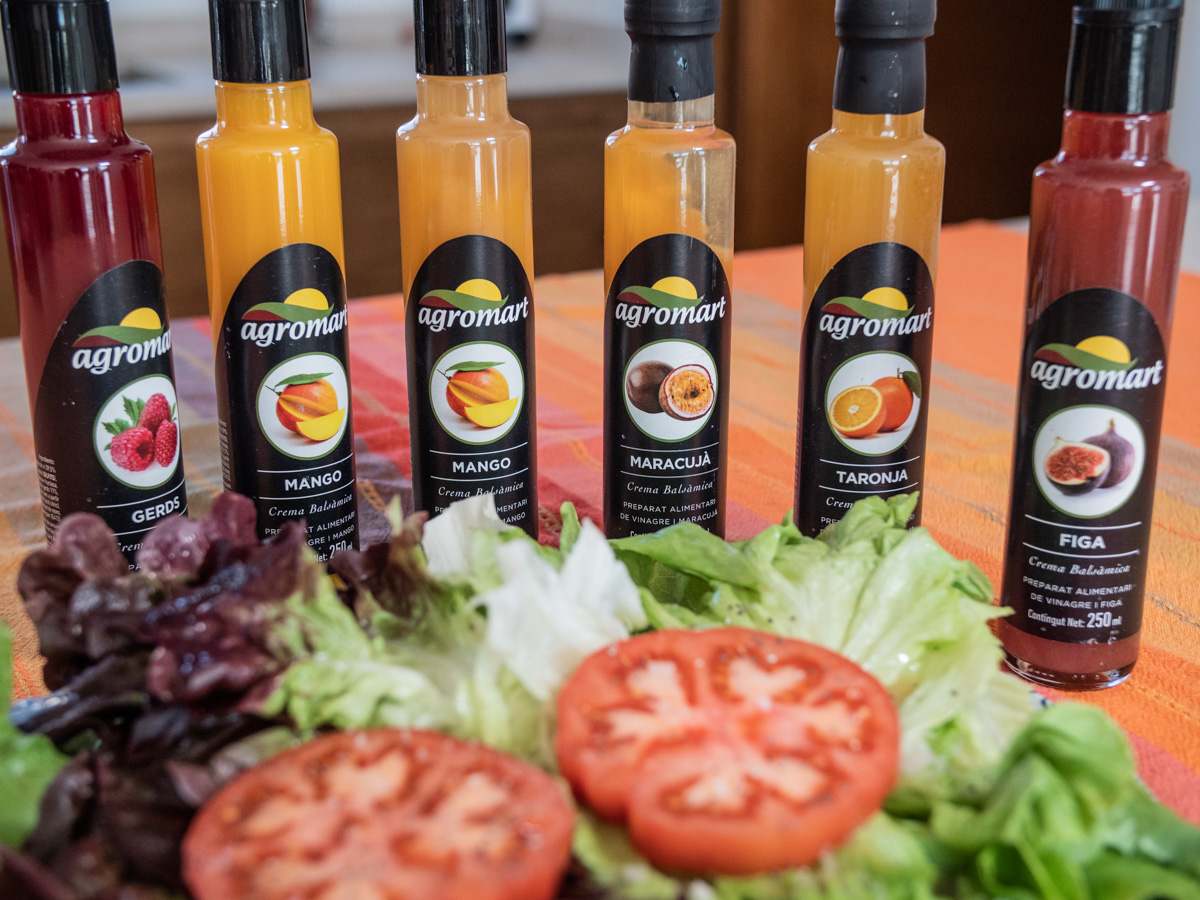 At Agromart we believe in the importance of offering healthy and quality products to our customers. Therefore, we work with local suppliers to ensure that our products are fresh and of the best quality. In addition, we make sure that they are produced sustainably, taking care of the environment and supporting the local economy.
Our own products include a wide variety of options, from fresh fruits and vegetables to packaged foods, cookies, sweets, ice creams or typical foods of our admired cuisine. All our products are made with natural ingredients and do not contain additives or artificial preservatives.
In addition, we are committed to offering our clients the best quality at the best price. We make sure that our own products are accessible to everyone, without sacrificing quality.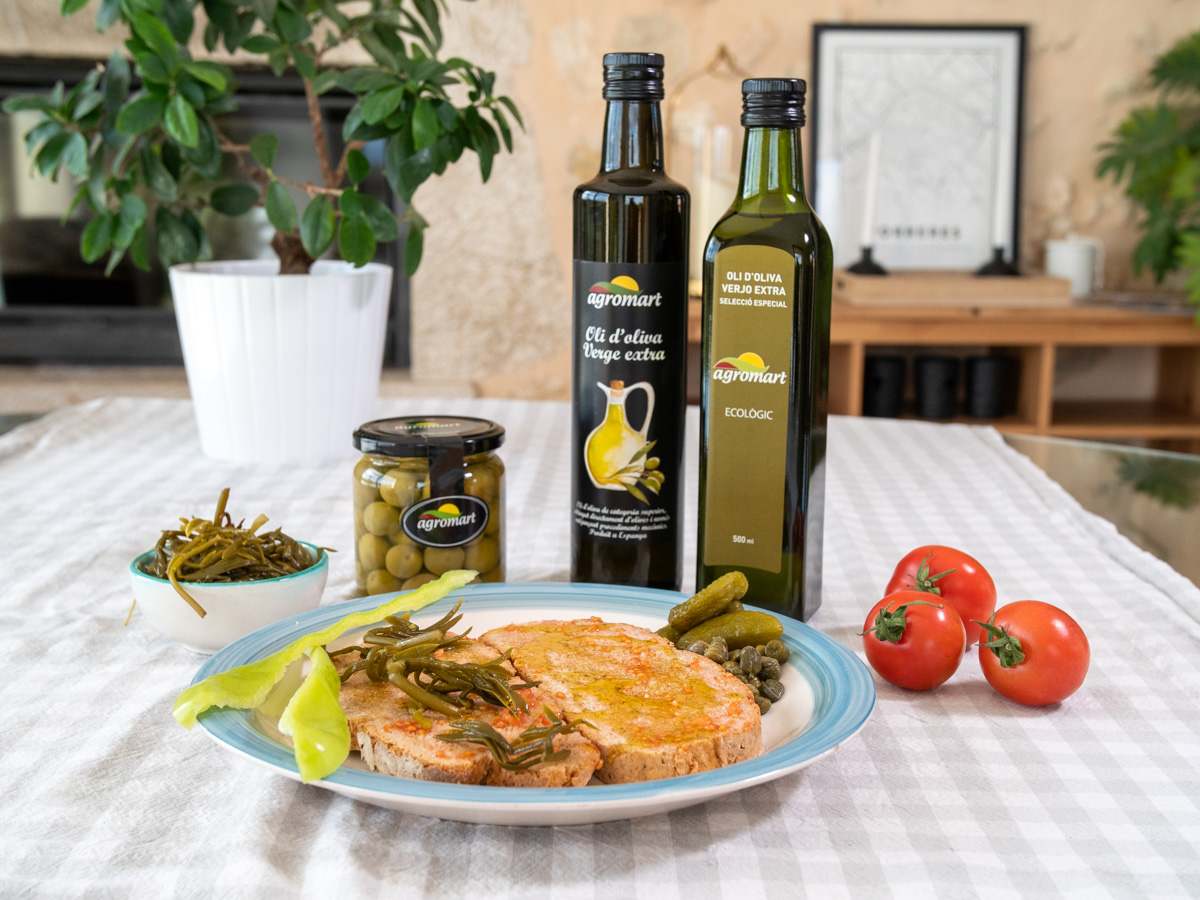 Do not hesitate to try our range of own products and discover their quality and taste.
Thank you for choosing Agromart!
PUMPKIN
POTATO
SALTY NOUGAT
ORANGE NOUGAT
NEULES NOUGAT
NOUGAT BLACK CHOCO AND HAZELNUTS
NOUGAT CHOCO WITH MILK AND ALMONDS
BARS WITH PIPES
PETIT CHEVALIER BLACK CHOCO
PETIT CHEVALIER CHOCO WITH MILK
PETIT CHEVALIER WHITE CHOCO
FRIED CRUSTONS
NATURAL CROSTONS
TRADITIONAL CRAKISS
REGAÑA OLIVE OIL WITH SESAM
PREMIUM SNACK SPIKES
OLIVE MINI CIABATA
STIRATI 3 SEEDS
MINI CHAPATA
MINI CIABATA RAISINS AND NEW
BOER VANILLA
NOUGAT BLACK CHOCO AND ALMONDS
BIO SAFRIDA TOMATO
MANZANILLA OLIVES
COCKTAIL
ANCHOVY Gherkin
HOOD LIDS
TAPAROTES
FENNEL MARI
GUACAMOLE
PATÉ BLACK MALLORCAN ARTICHOKE LOCAL VARIETY
CIBRONES
LENTILS
FRIED TOMATO
CRUSHED TOMATO
PEELED WHOLE TOMATO
MELICOTO AL ALMIVAR
ECO VEGETABLE SOUP
BIO CRUSHED TOMATO
ROASTED PEPPERS IN STRIPS S/GLUTEN FREE
GLUTEN SCALVED
CAMALLOT
SAIM LARGE TUB
VICH SOBRASADA
SAIM SMALL TARBINE
SWEET SOBRASADA WITHOUT GLUTEN
SOBRASADA SEMI WITHOUT GLUTEN
SPICY SOBRASADA
SWEET SAUSAGE
SAUSAGE SEMI
SPICY SAUSAGE
CAMALLOT 1/2 ***
SOBRASADA VIEJA SEMI PIECES S/GLUTEN
SOBRASADA VIEJA SEMI S/GLUTEN
PALLA POTATOES
ECO PINEAPPLE JUICE
ECO PEACH JUICE
ECO BEET JUICE
TOMATO JUICE
ECO EXTREME ORANGE JUICE
ECO NABIVO JUICE
ECO ACE JUICE
ECO APPLE JUICE
ECO MELICOTTO JUICE
ECO PINEAPPLE JUICE
ECO LEMON JUICE
ECO MANGO JUICE
ECO TROPICAL JUICE
ECO GRAPEFRUIT JUICE
INTENSE COFFEE CAPSULES
RISTRETTO COFFEE CAPSULES
DECAFFEINATED COFFEE CAPSULES
GRANULATED GARLIC
GARLIC AND PARSLEY
ALFABAGUERA
STAR ANISE
CINNAMON A LOT OF
VERY CARDAMOM
CAYENNA BRANCH
GRAIN KEY
FOOD COLORING
CUMIN IN GRAIN
TURMERIC A LOT OF
CURRY
ENEDO SHEET
PROVENCAL HERBS
VERY GINGER
MUSTARD MUCH
NUTMEG
OREGANO LEAVES
PARSLEY LEAVES
SWEET RED PEPPER
SPICY RED PEPPER
VERY WHITE PEPPER
BLACK PEPPER GRAINS
BLACK PEPPER VERY
GREEN PEPPER
SPROCKETS
BRUT RICE SPICES
PAELLA SPICES
ROSEMARY LEAVES
THYME LEAVES
CONDITIONING BASED ON SALT AND CHARCOAL
MEDITERRANEAN SALT FLAKES
BLACK PEPPER
EXOTIC PEPPERS
SALT FLAKES
HIMALAYAN PINK SALT
TRAY BRI
NYORA 'S MEAT
MEAT PEPPER CHORICE
WHOLE CINNAMON
VANILLA BAJUECA
POTATO STARCH
MULTICOLORED PEPPER
PEPPER RIM OF TAPÓN DE CORTI MALLORQUI
PEPPER BORDO TALE OF CIRCILLA
MANGO ICE CREAM
BOX 12UD
WHIPPED CREAM
CHOCOLATE
TIRAMISU ICE CREAM
VANILLA BOURBON ICE CREAM
YOGURT ICE CREAM
TRUFFLE ICE CREAM WITH CHOCOLATE CHIPS
HAZELNUT ICE CREAM
MINT ICE CREAM WITH CHOCOLATE CHIPS
ALMOND ICE CREAM
STRACCIATELLA ICE CREAM
APRICOT ICE CREAM FROM PORRERES
ICE CREAM SORBET TANGERINE
STRAWBERRY ICE CREAM FROM MANACOR
RAW ALMOND ICE CREAM
OREO BISCUIT ICE CREAM
FREE-RANGE EGGS 1/2 DOZEN
OIL
OIL SPECIAL SELECTION
ECOLOGIC OIL
EXTRA GERD JAM
EXTRA MELICOTO JAM
EXTRA HOTEL JAM
EXTRA PLUM JAM
EXTRA STRAWBERRY JAM
EXTRA SWEET ORANGE JAM
EXTRA BREAKFAST BLACKBERRY JAM
EXTRA NABIVO JAM
ECO MILFLORES HONEY
HONEY THOUSAND FLOWERS
THYME HONEY
EUCALYPTUS HONEY
FOREST HONEY
ROSEMARY HONEY
ORANGE HONEY
POLLEN
THICK ORANGE HONEY
ORANGE BALSAMIC CREAM
FIG BALSAMIC CREAM
MANGO BALSAMIC CREAM
GERDS BALSAMIC CREAM
SEMI SMALL COW CHEESE MENORCA
SEMI MENORCA COW CHEESE
CURED COW CHEESE MENORCA
SPECIAL COW CHEESE
ARTESA SEMI-CURED COW CHEESE IN TRUFFLE
BOLOGNESE SAUCE