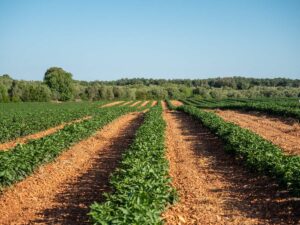 Our local production has grown
Despite the difficulties, we have increased the sale of our own local products and those of other producers in Mallorca.
We are more local, more KM0, more focused on what the field gives us. In one year we have increased Agromart's own production by 20%, and 38% more than in 2020 in the sale of local fruit and vegetables. Now more than ever with the local product, with the one from here.
At Agromart we have become aware that we should bet on local products, km-0 products and a product free of carbon dioxide emissions. Delivering in this way the maritime and land traffic of products and consequently delivering all possible pollution to our environment. That is why we have carried out an unprecedented work in the search for local products and peasant producers. Always working in a serious, competent way and maintaining the optimum quality that we defend.
Today we are working with 68 references of Mallorcan origin. These amounts represent an increase of 38% over the previous season. Our local production has grown in quantity and diversity.

We are grateful for the trust of all the people who have taken part in this process, from the farmers, to the distributors and to the customer, because we are all part of the same ecosystem.
Porreres, October 2021