What you do to the world you do to yourself
For this reason, we all know it, the Sustainable Development Goals that we pursue as a society are very necessary.
Reducing waste necessarily involves reusing, which is the smart way to manage the raw materials that we use and transform.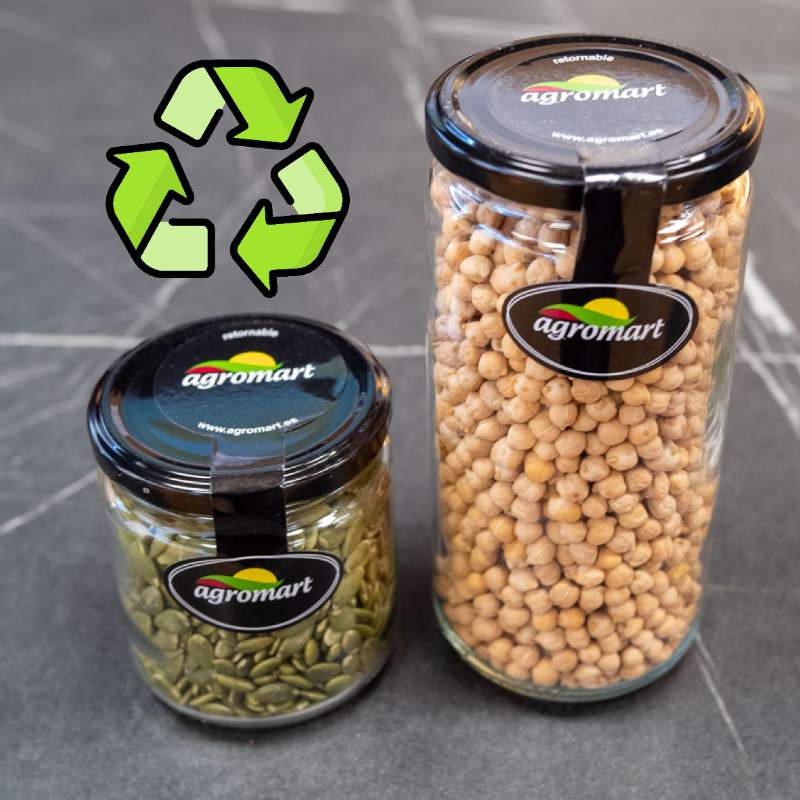 And this happens with glass containers. Your commitment benefits us all, you and the planet.
You can, with our CANs!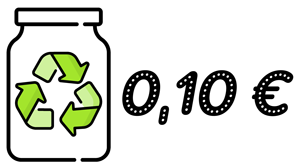 The environment is our home, we must ensure maximum reuse.
If you return the glass jars of Agromart products, you will get 10 cents for each unit.

Join the zero waste, the maximum care of resources.
#WeAreAnOrganism #Canisters #ResiduZeroWaste #Recycling
agromart Products with returnable packaging
RAW ALMOND WITH SKIN JAR 180gr
RAW REPELLED ALMOND JAR 200gr
FRIED REPELLED ALMOND WITH SALT JAR 200gr
TOASTED REPELLED ALMOND JAR 200gr
SALTED TOASTED REPELLED ALMOND JAR 200gr
TOASTED ALMOND WITH SKIN JAR 180gr
FINE CRUSHED ALMOND JAR 150gr
RAW CASHEW JAR 180gr
SALTED FRIED CASHEWS JAR 180gr
DEHYDRATED BLUEBERRY JAR 200gr
RAW HAZELNUT JAR 180gr
TOASTED HAZELNUT JAR 180gr
GOJI BERRIES JAR 150gr
BANANA CHIPS POT 105gr
BBQ CORN JAR 100gr
BONIATO McCAIN SWEET JAR 500gr (FROZEN)
FRIED PEANUT JAR 180gr
COCKTAIL CRUNCHI JAR 250gr
DEHYDRATED COCONUT JAR 200gr
STRIPED COCONUT BOAT 95gr
COMBOTEA APPLE ECO 400gr
BONE-FREE CANDIED DATE GLASS JAR 380gr
SUPER EXTRA DATE GLASS JAR
FRUIT JELLY BOTTLES CRISTAL JAR 500gr
GINGER DICE JAR 200gr
ALMOND SHEETS POT 120gr
PUMPKIN SEEDS JAR 200gr
CHIA SEEDS BOTTLE 230gr
FLAX SEEDS POT 220gr
LEGUMBER CIGRO LARGE GLASS JAR 500gr
SMALL CIGAR LEGUME GLASS JAR 550gr
LEGUME PEELED BEANS GLASS JAR 400gr
LEGUME BEANS GLASS JAR 440gr
LEGUME FEZO GLASS JAR 500gr
LEGUMBER GARRAFO GLASS JAR 500gr
LEGUME FAT LENTIL GLASS JAR 550gr
LEGUME PEELED LENTIL GLASS JAR 600gr
LEGUME LENTIL SMALL GLASS JAR 550gr
ROUND WHITE MONJILLA LEGUME GLASS JAR 550gr
MONJETA LEGUME GLASS JAR 550gr
MONJETA PINTA LEGUME CRYSTAL JAR 500gr
PESOL LEGUME CRYSTAL JAR 600gr
SOY BEANS GLASS JAR 570gr
DEHYDRATED MANGO JAR 200gr
MIX OF ALMONDS COATED WITH THREE CHOCOLATES POT 230gr
TROPICAL FRUIT MIX POT 240gr
VITAL MIX POT 180gr
NUTS MACADAMIA POT 180gr
NUTS PECANAS PIECES JAR 150gr
NUTS CHUNKS USA POT 130gr
BONE-FREE RAISINS JAR 200gr
SULTANAS RAISINS JAR 200gr
DEHYDRATED PAPAYA JAR 220gr
DEHYDRATED PINEAPPLE JAR 220gr
PINIONS POT 180gr
PUMPKIN SEEDS COSCA POT 210gr
FRIDAS SUNFLOWER SEEDS BOTTLE 180gr
SUNFLOWER SEEDS TOAST WITH SALT (COSCA) BOTTLE 160gr
RAW SUNFLOWER SEEDS BOTTLE 180gr
COSCA TOASTED PISTACHIO JAR 150gr
DEHYDRATED APPLE JAR 170gr