As one thinker said: uniformity is death, diversity is life. This idea is fully applicable to the biodiversity of Mallorca, and in particular to the local varieties in the field.
Our commitment to the territory and to the local product also means putting back value on those autochthonous and traditional horticultural and fruit varieties called and cataloged as Local Varieties of Mallorca.
With this recovery we want our customers to have the opportunity to rediscover the flavors and aromas that have been lost in recent decades. That is why with the help of the Association of Local Varieties of Mallorca (https://www.varietatslocals.org/) we have reincorporated in our calendar of sowings and consequently in our shelves different horticultural varieties such as: Tomato of Mutxamel, Tomato of iron twig, Pepper of vinegar, Pepper of curtain stopper, Pepper cooked of cherry, Pumpkin of angel hair, Long pumpkin, Melon fei long and round, Artichokes black Majorcan, Drunk cabbages.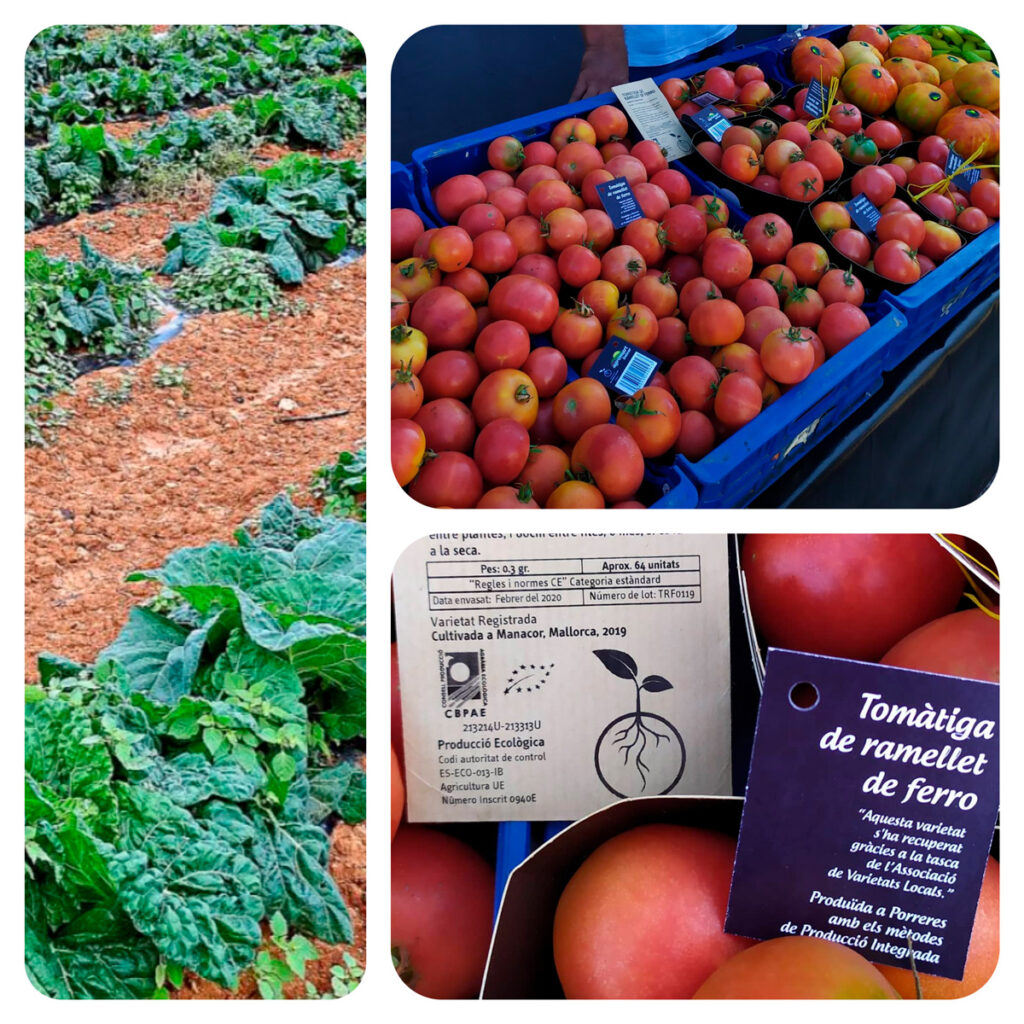 Along the same lines this winter we have planted 4000 fruit trees, all of them local varieties. To decide which varieties we should plant, we have been advised by the best specialists in the sector, professionals with a lot of experience and commitment to whom we are very grateful.
We planted Apricots, Plums, Peaches, Apples and Figs.
• Apricots: Murtó apricot well known in Porreres for naming its breeder (the late planter Gori Murtó), Inquer apricot (obtained in the old Inca farm), Galta apricot or sweet stone (traditionally well known by the sequers of the plain of Mallorca).
• Plums: Long or red monk plum, Ox heart plum, Strawberry plum, Banana plum.
• Peach trees: Mamelló, Late Yellow, Sineus from this municipality
• Apple trees: De la rosa, Nespla, Marinera, De SANT Joan
• Figueres: Albecor, Peretjal, Bordissot negre, Martinenca, Victòria.
We defend local varieties, because they are good for preserving our biodiversity, that of traditional and indigenous crops. We are no strangers to nature, we are part of it, and by enhancing its diversity we protect it.
The recovery of this fruit tree has been possible thanks to the help and advice of some of the best professionals in the sector. that is why we want to publicly thank:
Don Llorenç Payeres, agricultural technical engineer, teacher and a great enthusiast of local varieties. is the author of different books such as the inventory of traditional varieties of the Balearic Islands. He has been the project coordinator.
Don Bernat Canyelles, IRFAP technician and great defender of local varieties. His legacy and dedication to the local varieties of the Balearic Islands is of great admiration.
In the case of Figueres we could not have a better teacher, we were lucky to be able to follow the advice of the person who knows most about fig trees, Mr. Monserrat Boscana of the Son Mut estate in Llucmajor.
To the nurseries Hermanos Llabres (Biel Llabres) and Viveros Llabres (Miquel Àngel Llabres), both companies from Manacor. Also to the nurseryman Joan Cresì de Buger.
To the young grafters Joan Trobat and Joan Barceló de Porreres.
And finally and in a commercial way also thank the Merca (marketing company) and its farmers for their commitment to the project.